Issue #23: Pocket Rocket by Tim Isenman
Today, we're looking at Pocket Rocket by Tim Isenman.
As someone who went to space camp religiously as a kid, I still love watching rocket launches and Pocket Rocket lets me do just that. It helps me to keep track of all upcoming SpaceX launches and reminds me when they're happening.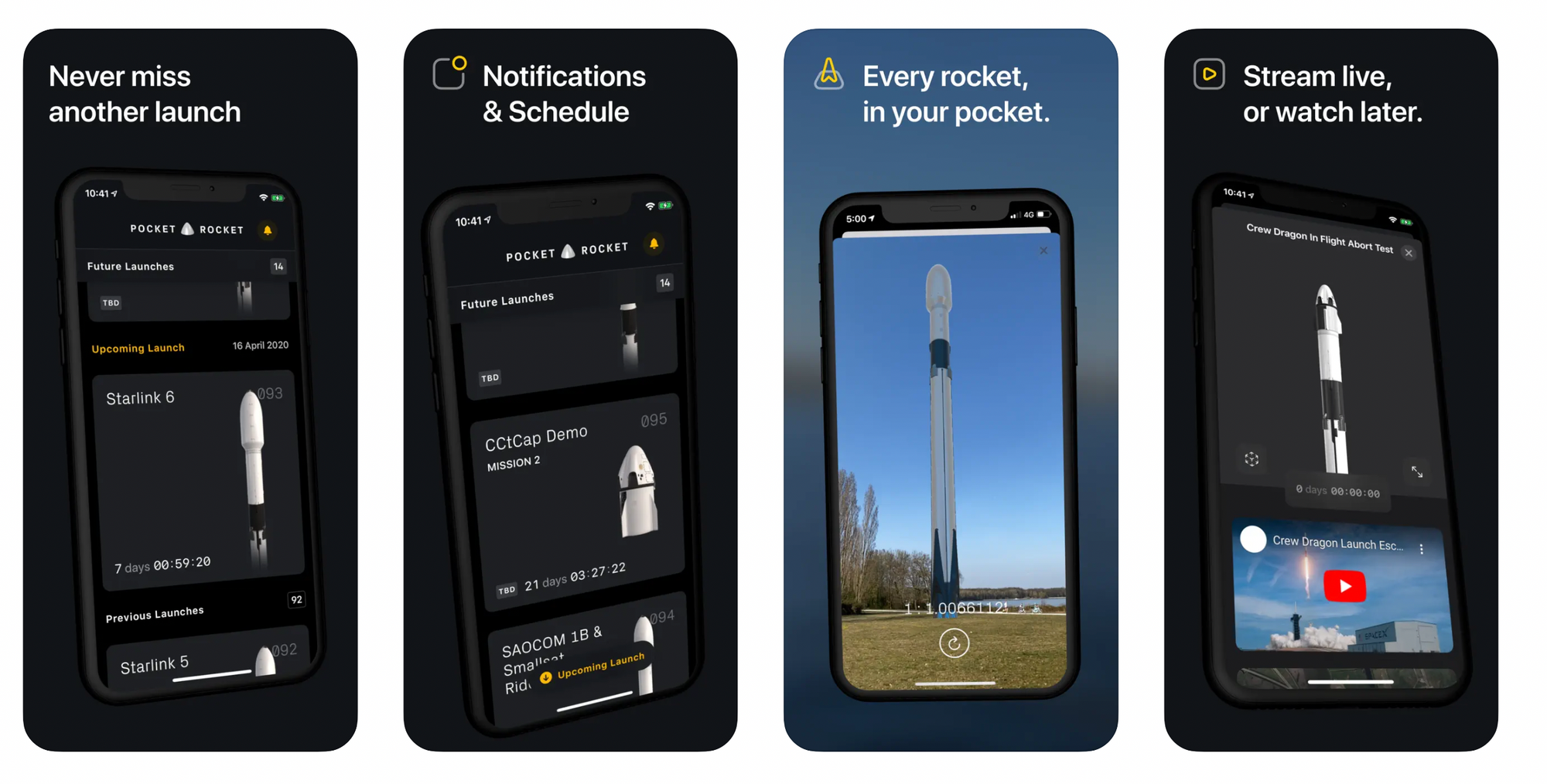 With Pocket Rocket, you can see past and future launches from SpaceX dating back to 2006. And, since launch dates are constantly changing, Pocket Rocket acts as your launch concierge to make sure you never miss out on witnessing history.
This app allows you to view existing and future rocket models, receive critical launch updates, livestream new launches, and interact with your favorite rockets in AR.
Launch day notifications, launch countdowns, live-streaming launches, and much more are included in the premium version of Pocket Rocket.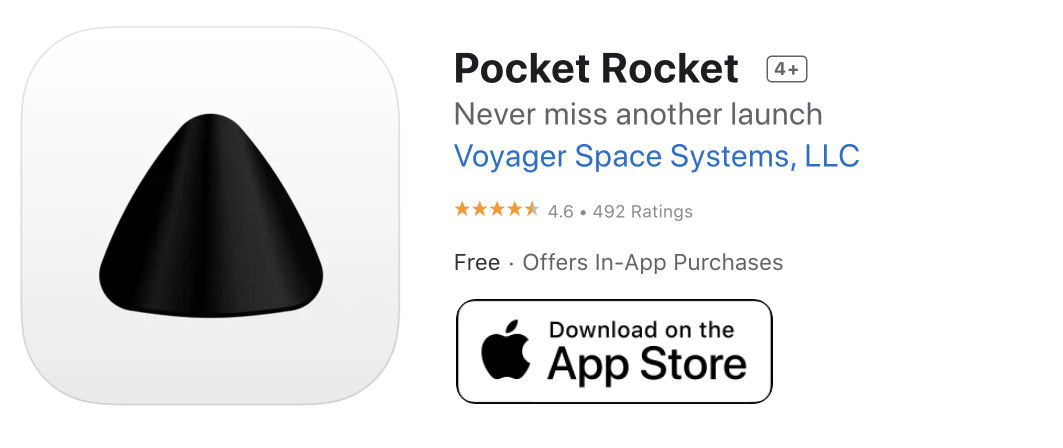 ---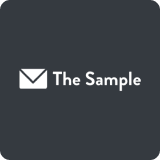 Each morning, The Sample sends you one article from a random blog or newsletter that matches up with your interests. When you get one you like, you can subscribe to the writer with just a click.
---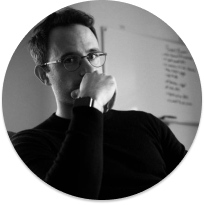 How did you come up with the idea?
When SpaceX was first making these launch and landing attempts, I would stay up until 3am or wake up at 5am to watch every single launch so I could witness the history of them landing their first rocket. I grew up being a massive NASA nerd, so everything they were doing was like a dream to me. Every new innovation was like some dream that kept coming true week after week.
Anyway, the problem with watching every launch, and in general, watching any launch, is that a launch schedule can change in a moment from something as innocuous as weather conditions above the rocket. Or, for SpaceX, changes to where the rocket will land.
There was no good place to know about reschedules back then. You'd only realize the schedule change when the YouTube video wouldn't start. Staying up till 3am or arranging my day around a rescheduled event was brutal.
Back then, around 5 years ago now, I was in my early days of learning programming, and I was trying to do it through Udacity. Their iOS course had a final project where I needed to use a 3rd party API. While I was browsing a site that listed APIs, I came across this SpaceX API which was oddly specific. What did it include, but launch schedules! And, it was managed by the SpaceX subreddit, whose members were even more fiendish about SpaceX than I was. So, it was updated all the time.
I began to experiment with a truly, truly primitive design, and I figured something this ugly might be worth a buck on the App Store in exchange for the convenience. But then I showed to my friend, Aaron Abentheuer, who I think is one of the best designers alive, and he asked if he could design it for me. I loved his work quite a lot, so off we went!
---
💡 Want to see your app featured?‌
‌Submit your app or reach out on Twitter 🐦
---
How did you market the app as an indie developer?
I reached out to any person alive on Twitter who expressed interest in SpaceX and asked them if they wanted to try the app. I sought their feedback constantly and worked super hard to incorporate their feedback into our designs.
At some point we had like 881 people testing the app on TestFlight, and some of them included folks at 9to5mac, and popular YouTubers who were really excited about the app.
So, once we were ready to launch, each of them had offered to help promote the app. Marcus House, an incredibly great host of his space industry YouTube channel, made a 4 minute segment about our app, and the vast majority of our early users came from that.
What's your app design and development workflow like?
Honestly, I'm not sure. If there is a big problem with the UX or with some functionality, we look closely at that, try to understand it as best we can, get to the true cause of it, and then just spend a lot of time thinking about the best solution, and the simplest solution.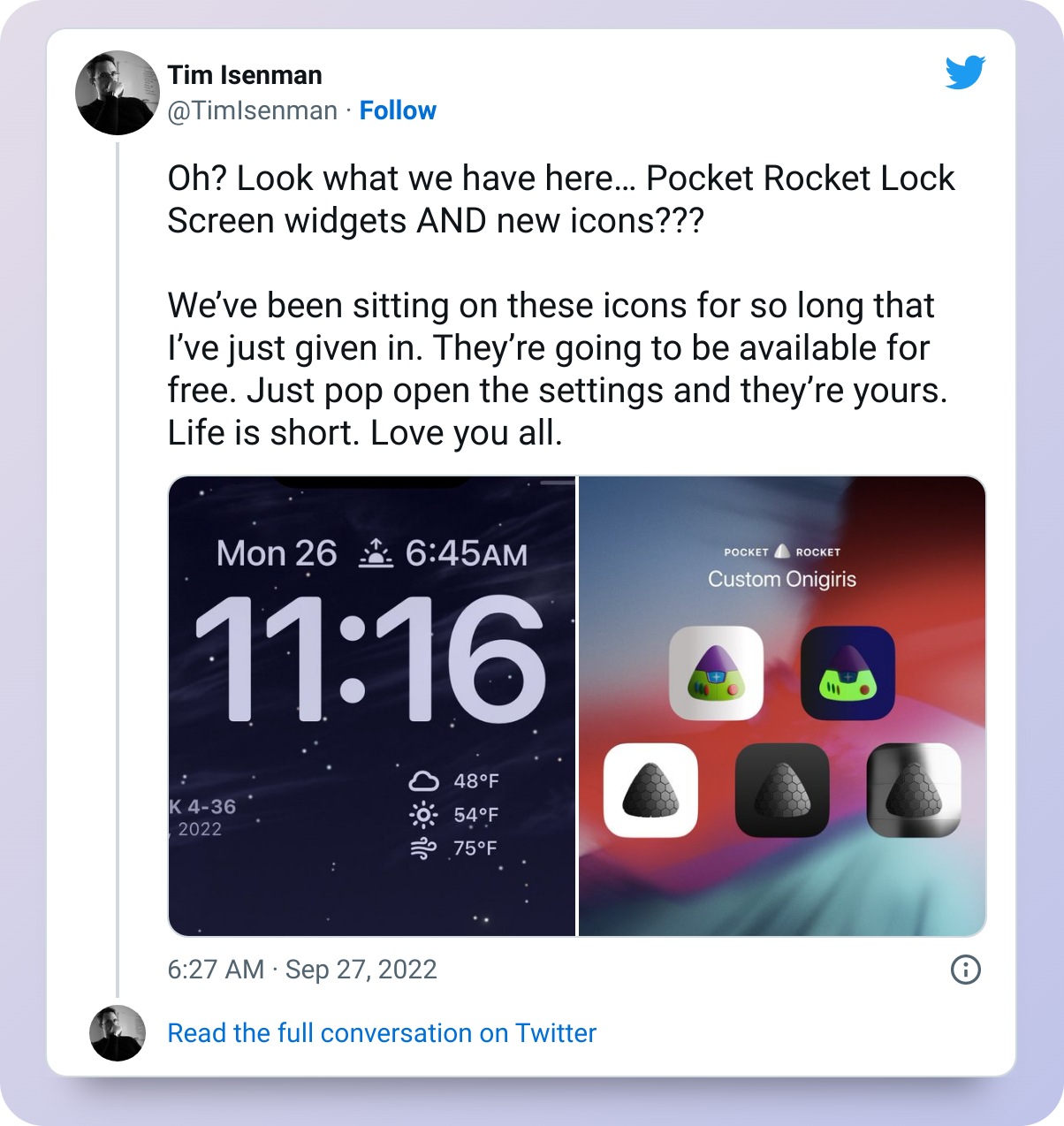 We just want to make stuff that feels awesome, looks great, and makes people really happy. So that's all we really do. Find problems, and ask ourselves what the right way to solve it is, and then what design opportunities we have around whatever solution we think of.
Always look for those opportunities. They will serve you well. The question I tend to ask myself is "Given this information/data, what's the coolest thing we could do with it?"
Any advice on monetizing your app and improving conversions?
Don't be afraid to charge. People are happy to pay for something great. Offer a variety of prices that let people pay more than you think they're willing to pay.
You don't want to put an artificial cap on how much money you can make. If people want to give you their money in exchange for a tool they love, just let them - ignore your shame.
Any advice for other indie devs on getting more ratings and increasing their app's visibility?
I think that tends to come from having a fairly deep understanding of their audience and delivering something they come to love. Does it look and feel better than they expected? Does it solve a problem they have in an elegant and surprising way?
They might just leave you a good review, but understanding people's problems requires talking to a lot of people and understanding their problem from their own words. Nothing beats hearing from the people whose lives you're trying to improve. No amount of data collection and analytics can top having a conversation and watching someone use your app.
I try to make a point of expressing my gratitude for anyone using my products. A small portion of some person's life will be spent in my app and that's a very lucky position for me to be in. I feel grateful for that time and I want people to know that, so I try to treat them with a level of respect that expresses that.
Sometimes we'll get some really angry reviews, but I respond to basically all of them and try to fix whatever problem caused the bad review. This often ends up flipping the review from a 1 to a 4 or 5. So, it's not so much a secret as it is hard work and gratitude.
What's your favorite tool in your development workflow?
Apple Notes App.
---
A quick welcome to the ✨ 5 new people ✨ joining us this week - feel free to reply to this email and say 👋.
If you're enjoying the newsletter, please consider sharing it! Have some feedback you want to share? Drop me a message 📧
If you missed last week's issue, you can read it here:
---
If you have an interview coming up, check out my book Ace the iOS Interview!
Subscribe or follow me on Twitter for updates!