Issue #30: Recurrence by Stephen Hayes
Today, we're looking at Recurrence by Stephen Hayes.
Recurrence helps you manage and track all of the repeating tasks in your life. Need to know something about a task that occurred three months ago? Recurrence has the info ready and waiting.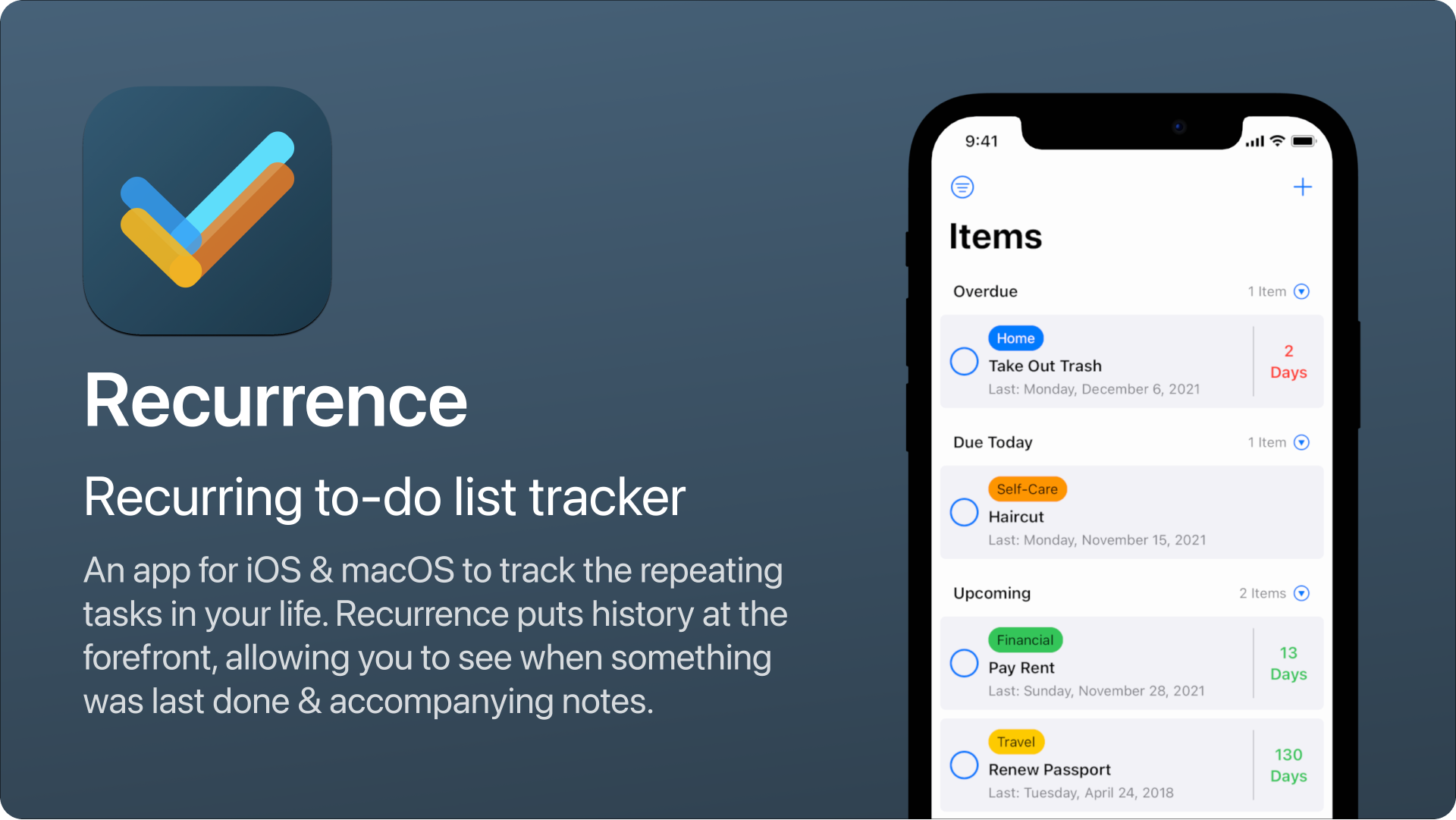 Recurrence simplifies the creation of repeating tasks with an intuitive UI and advanced organization capabilities like filtering and tagging. Task configurations also show details such as occurrence count, last completion, notes, and much more.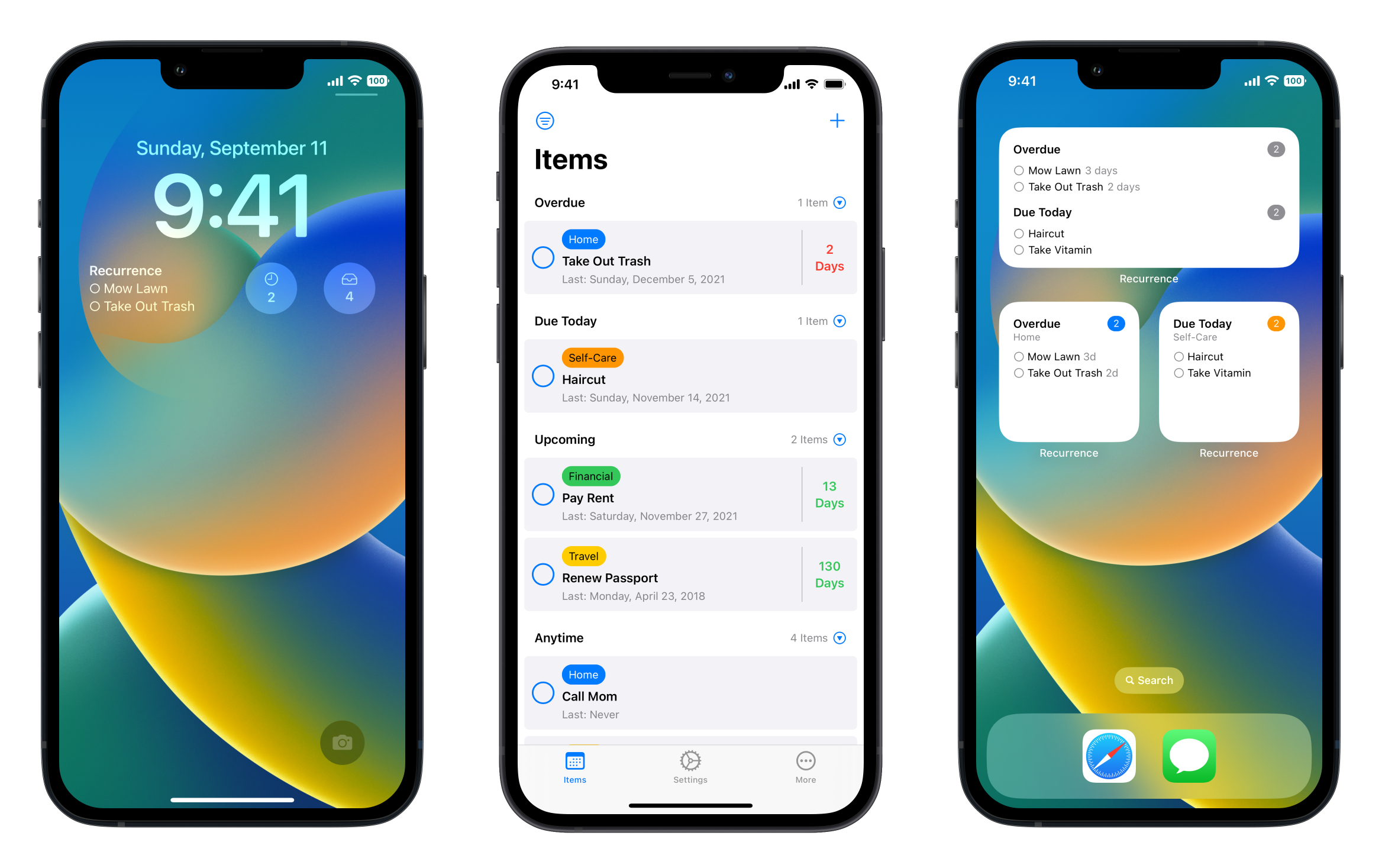 Recurrence is the easiest solution for managing all of the recurring tasks in your life: car maintenance reminders, bill payments, annual assessments, household chores, and more.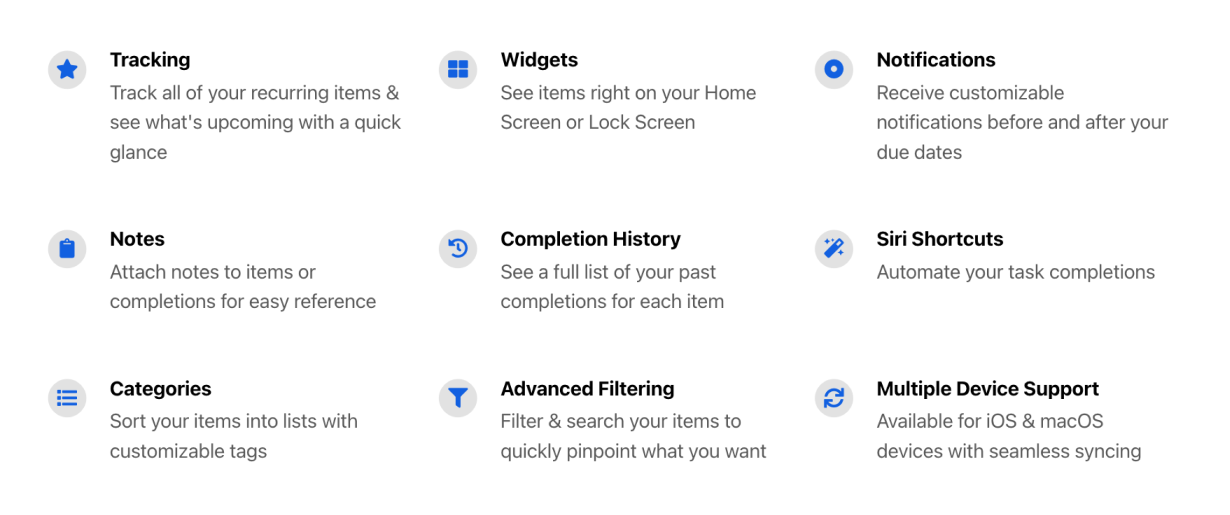 ---
Interested in Stephen's other apps? You can check them out here:
---


---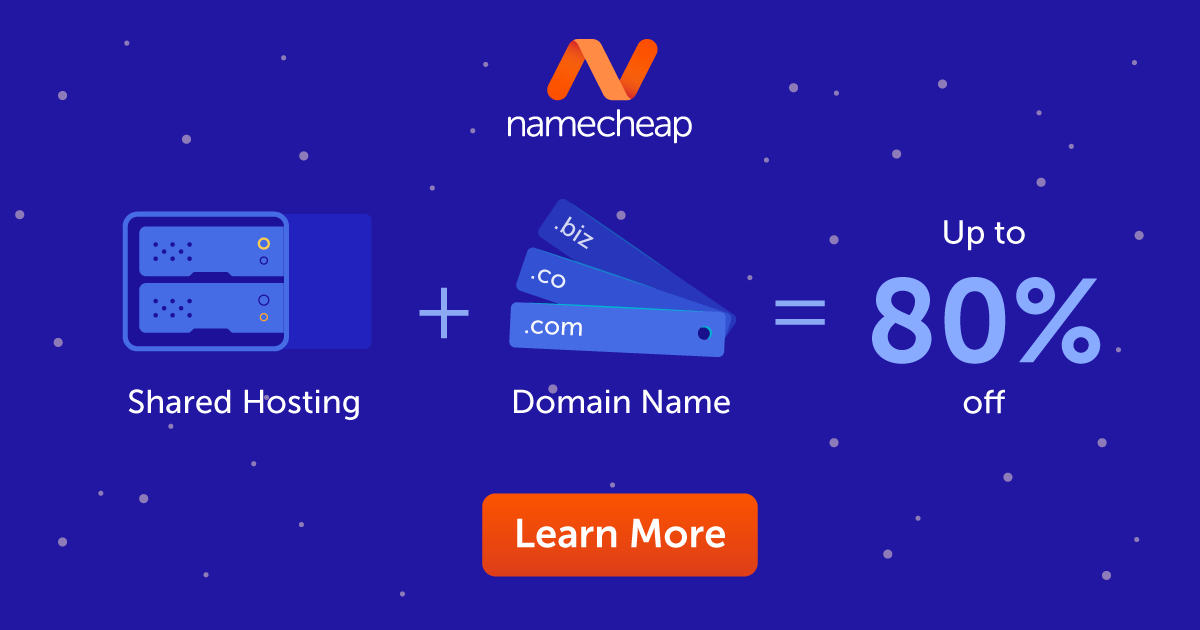 Namecheap is committed to offering the industry's best value and customer service for domains, SSL certificates, hosting, and more. Increase your sales while helping your clients build or improve their web presence.
---
Can you tell us a little bit about yourselves?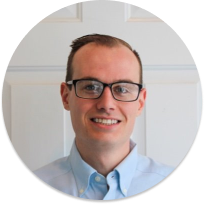 Hi, I'm Stephen Hayes. I'm an aspiring indie developer living in Pennsylvania.
I'm currently a software engineer for Johnson & Johnson working primarily on health-related mobile applications. Developing mobile apps has been a passion of mine for over 10 years now and something I hope to someday make my full-time gig.
How did you come up with the idea?
Most of my apps come from personal itches. There's always an app out there that does close to what you're looking for, but it's either poor quality, riddled with ads, or isn't built quite how you would want to use it.
A couple of years back, I was trying to get more organized. There are lots of things that happen on a recurring basis, but there didn't seem to be an app that focused well on the recurring aspect. Traditional to-do lists are only focused on the present/future - as in what do I need to do now? There was no easy way to look back at the last time you completed something or jot down details you'd want to remember for the next time.
Recurrence was my solution to this problem.
Whenever you complete something, you can add notes to the completion and view a full list of past completions. I've tried to keep the app generic to support as many use cases as possible. Lots of people like to use it for things like car and house maintenance, bill payments, medications, and so much more. I'm constantly amazed at the ways people think of using the app.
---
💡 Want to see your app featured?‌
‌Submit your app or reach out on Twitter 🐦
---
How did you market the app as an indie developer?
Marketing is definitely not my strong suit, but I've done a few things to get some traction:
1. I've included links to Recurrence in my other applications - this has brought me more traffic than I anticipated!
2. Around New Year's last year I ran a Reddit giveaway on r/apple for their Promo Sunday. This blew away my expectations and I ended up with 330 upvotes, 176 comments, and thousands of downloads.
3. I let my wife handle my social media. I'm terrible at posting, so she has taken the reins. She uses Canva to make pretty graphics and attempts to get the word out to new users.
What's your app design and development workflow like?
I am much stronger at programming than I am at designing. I tend to make a rough sketch on paper and then just dive right into coding. I quickly put builds on my phone and just play around with them constantly. I continuously refine it until it sits right with me and feels at home on my iPhone.
That said, I'm working on building my design chops a little more. I've been learning to get better at Figma as I can see how focusing more on the design could save me some time.
Any advice on monetizing your app and improving conversions?
I wish I could just build great experiences and the money would come easily but, sadly, this is not the case. Last year, I started to research and spent some more time in this area in hopes I could get closer to becoming a full-time indie developer.
A few recommendations:
1. Show your paywall during onboarding - it's effective and users are fine with it as long as you provide a free trial period.
2. Consider simplifying your paywall - default to one option (for me, it's a yearly subscription) and hide other plans behind another button. For those who really dislike subscriptions, offer a lifetime option.
3. You can make a big difference to your bottom line by running an A/B test on your paywall conversion.
What's your favorite tool in your development workflow?
RevenueCat! I've been using them since I switched to subscriptions and can't believe how easy they make it. You can easily set up different paywall tests, view pretty charts of subscribers/revenue over time, and much more.
---
A quick welcome to the ✨ 4 new people ✨ joining us this week - feel free to reply to this email and say 👋.
If you're enjoying the newsletter, please consider sharing it! Have some feedback you want to share? Drop me a message 📧
If you missed last week's issue, you can read it here: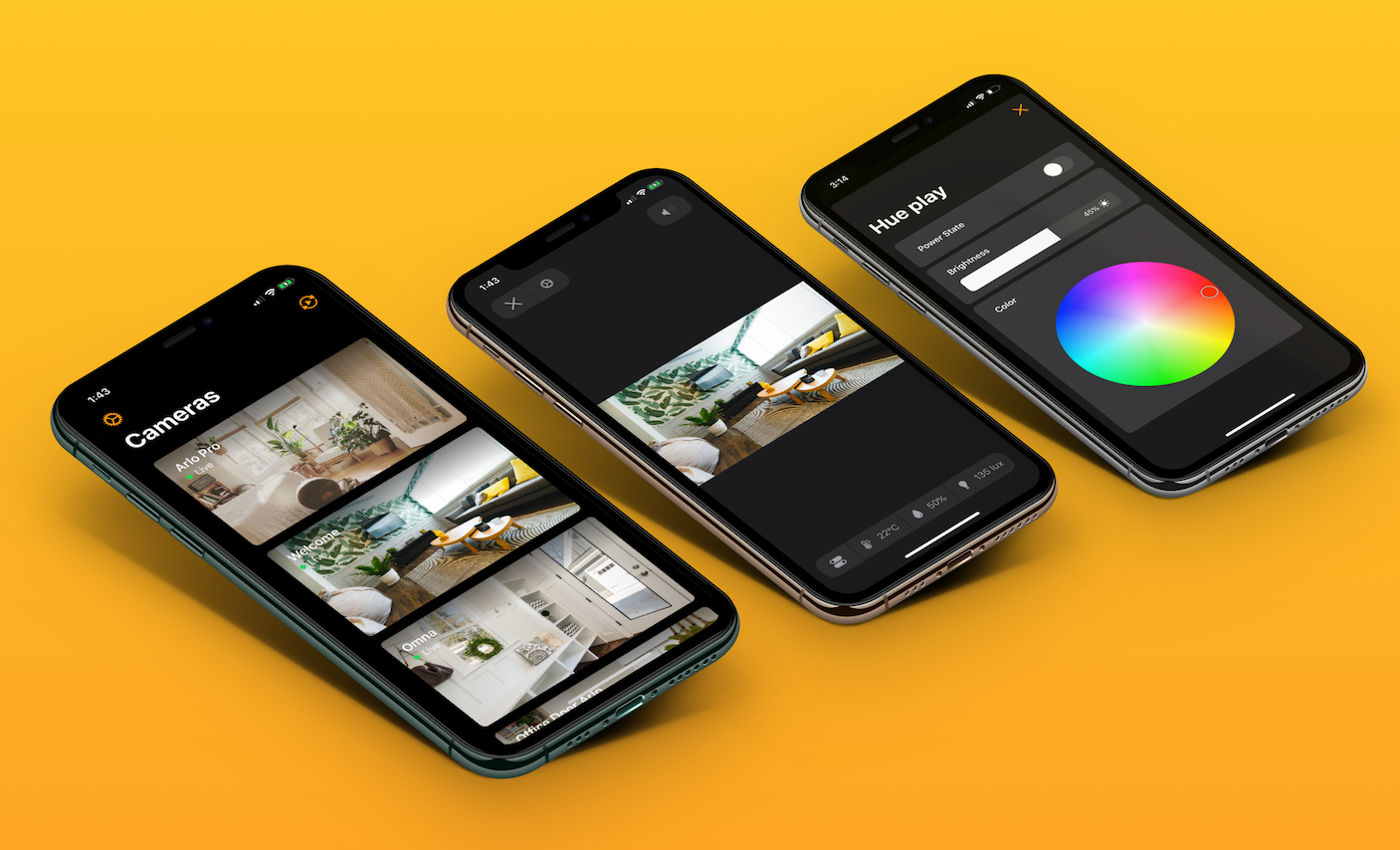 ---
If you have an interview coming up, check out my books Ace the iOS Interview and Practical Tips for Junior iOS Developers!
Subscribe or follow me on Twitter for updates!