Issue #37: Obscura by Ben McCarthy
Today, we're looking at Obscura by Ben McCarthy.
Obscura is an advanced camera app that offers an impressive range of features and functions to help you capture stunning photos.
The app is packed full of tools and controls specifically created to simplify professional-level photography, enhance your picture's visual appeal, all while ensuring that the interface remains user-friendly and intuitive.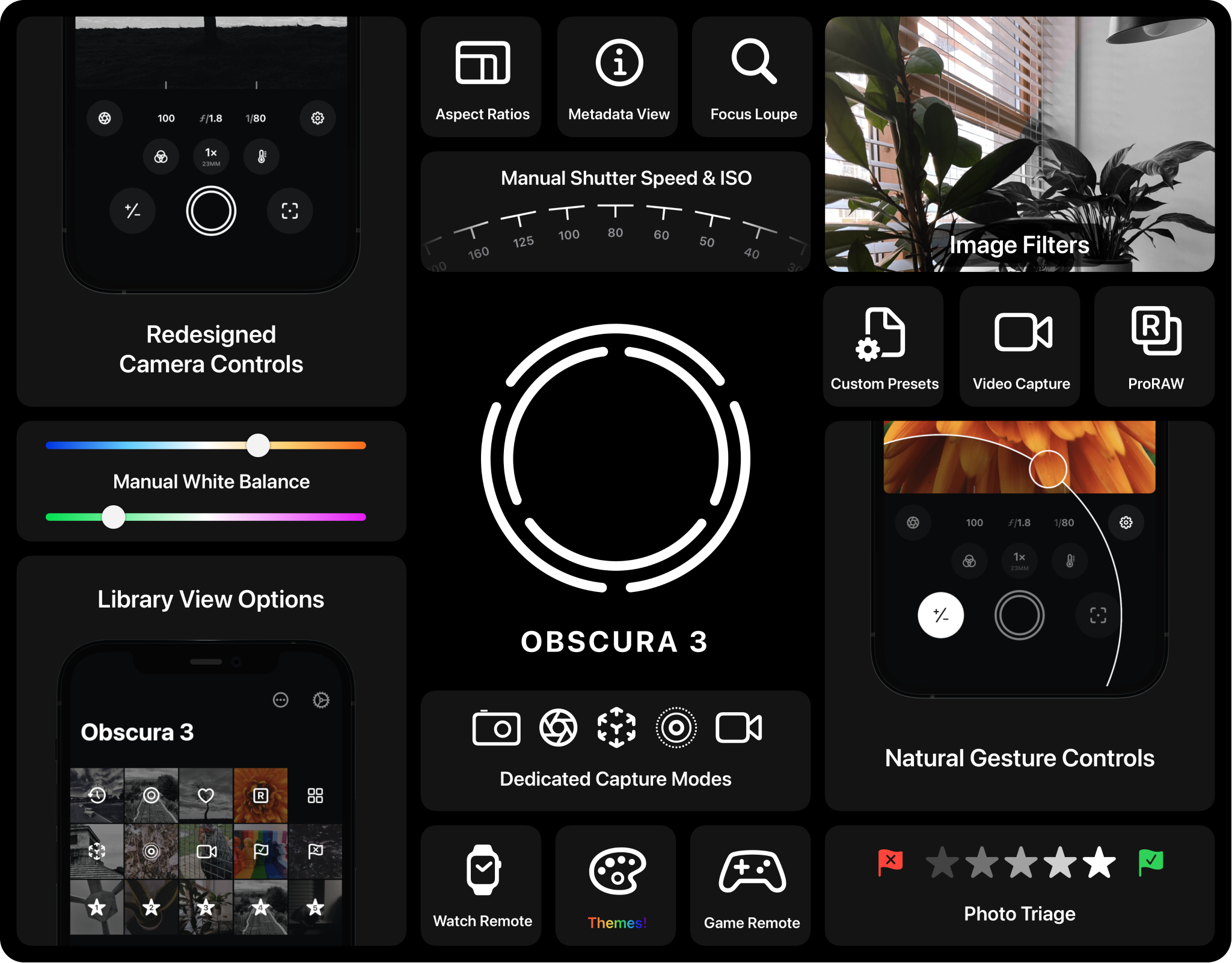 Obscura offers camera modes tailored to different types of photography:
Photo mode is fast and simple and uses virtual cameras for rapid zooming.
Pro Photo offers manual control of focus, white balance, shutter speed, and ISO, and RAW/ProRAW capture on supported devices.
Depth mode is for portrait or depth data photos.
Live Photo is for Live Photos 😉.
Video mode has manual focus and white balance controls with dedicated modes to prevent interface complexity.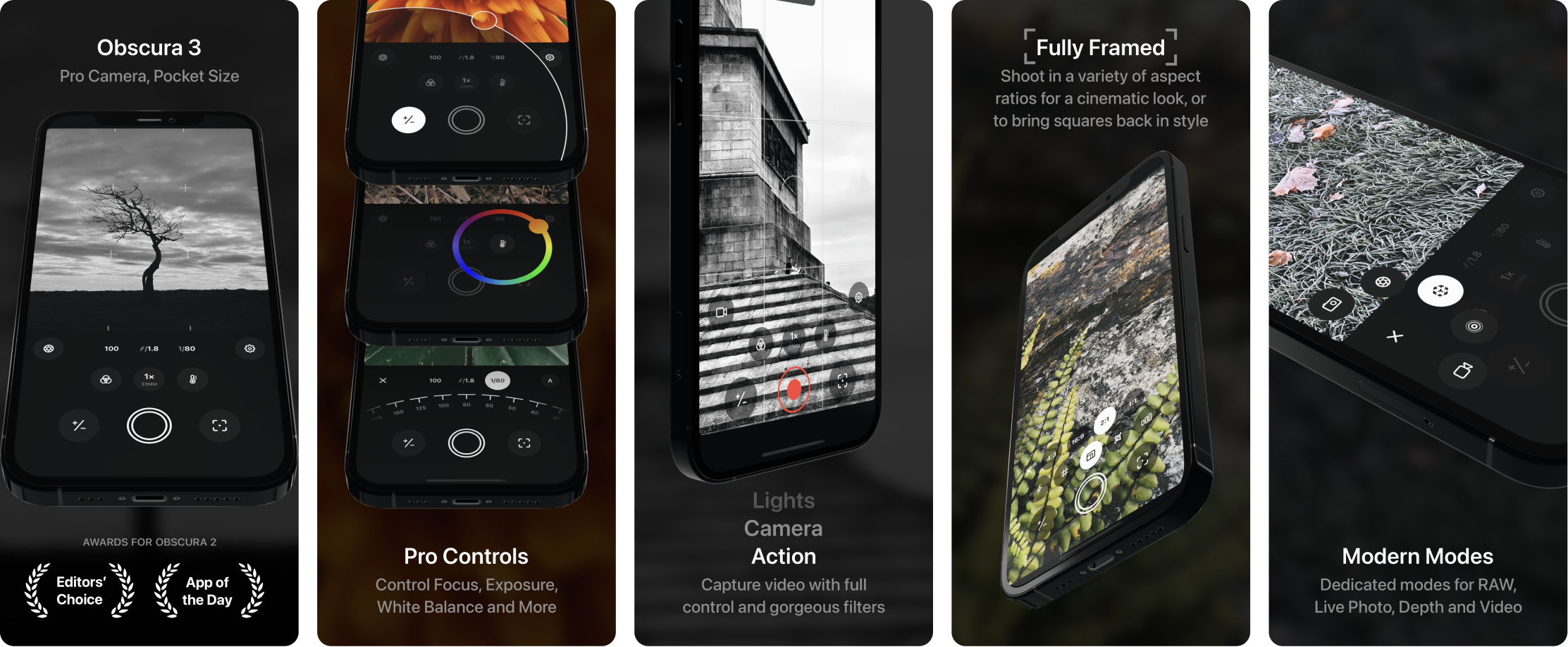 Obscura provides advanced white balance controls, personalized presets, and alternative aspect ratio capture options. Additionally, it includes a photo triage feature that allows for sorting your library using flags or star ratings.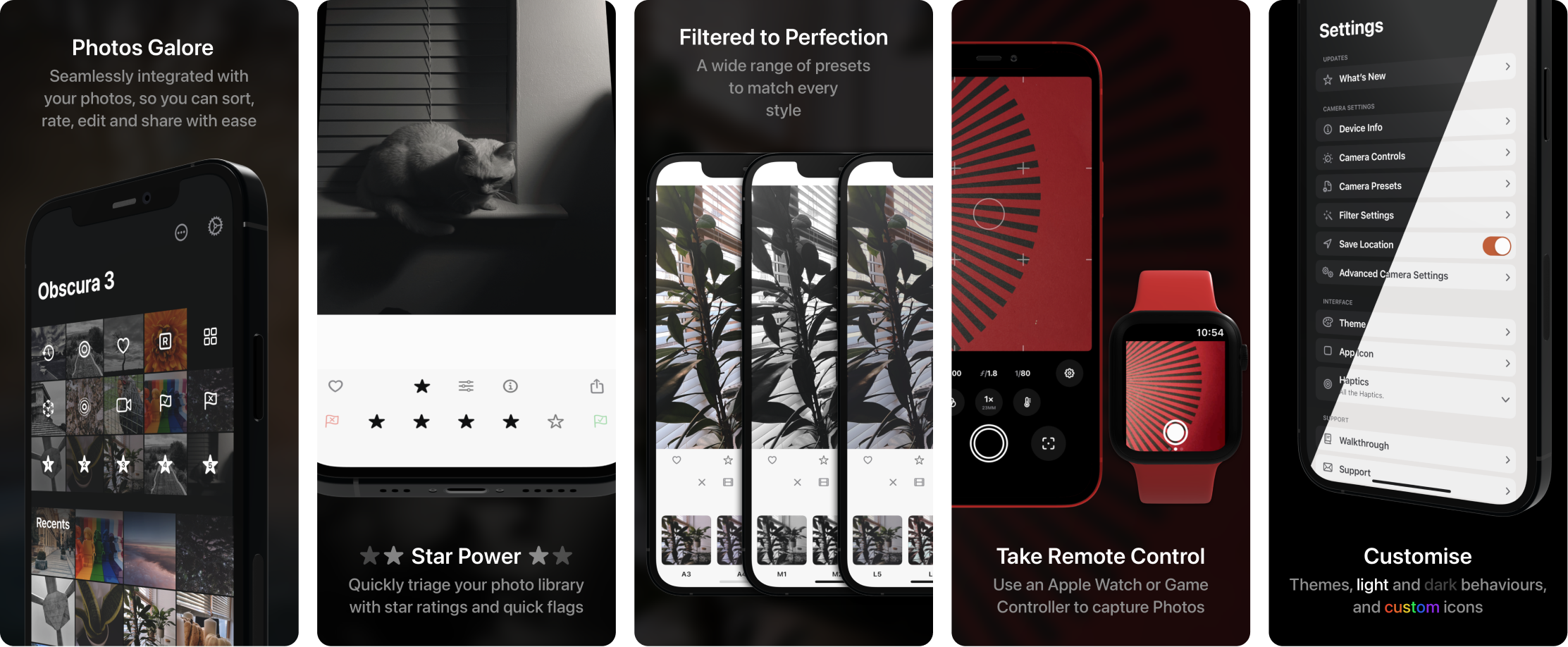 Obscura 2 launched in 2018. It was chosen as Editors' Choice by Apple, and has been promoted many times since. It has been installed on demo devices in Apple Stores around the world and included on slides during WWDC. It has been downloaded over 1 million times (though largely as part of a promotion by Apple in which it was given out for free...).

I'm incredibly proud of how far this little camera app has come, and I can't wait to see how Obscura 3 is received.

- Ben McCarthy
Obscura is an excellent choice for anyone looking to take their photography to the next level.


---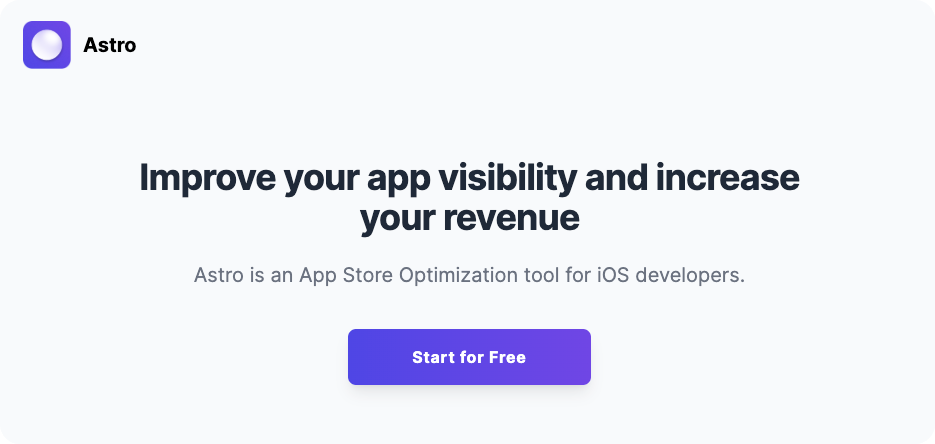 ---
‌Can you tell us a little bit about yourselves?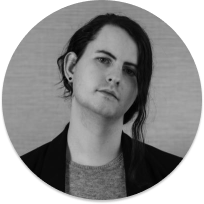 I'm a 29 year old, non-binary, Irish app maker. I studied graphic design in college, and taught myself to code, first in Objective C, and later in Swift.
I live in Dublin, Ireland with my partner Sara, and our cat, Goose.
How did you come up with the idea?
My dad is a professional photographer, and so I grew up around cameras. In the early days of the iPhone, it was clear that the smartphone could serve as a great camera in many situations, but the native camera app was quite limited in its functionality.
In 2014, iOS 8 was announced and introduced several new manual camera APIs that offered much greater control over the device's hardware. It didn't seem like Apple would sacrifice the simplicity of their camera app, so I figured there would be a big opportunity for third party camera apps.
---
💡 Want to see your app featured?‌
‌Submit your app or reach out on Twitter 🐦
---
How did you market the app as an indie developer?
I had met a bunch of people in the indie Apple world, especially podcasters and journalists at a conference I was helping out with around that time. They were a huge help in spreading the word when Obscura launched.
What's your app design and development workflow like?
Haphazard? I generally just work on whatever I feel is top priority. Some days that's working on new features, or fixing bugs, or dealing with support email. Often it's a mix of everything.
Any advice on monetizing your app and improving conversions?
I'm probably not the best person to ask, because I still feel like I don't do a great job here. Marketing is tough, and it's hard to know what's working and what's just luck.
Being able to A/B Test App Store Screenshots is definitely worth exploring though.
What's your favorite tool in your dev workflow?
I think the most invaluable thing is having people you can show your work to, and get honest, constructive feedback from. It's easy to get stuck in your own assumptions, and using the same tools and techniques you're used to all the time can get in the way of new ideas. You just can't beat the value of ideas that challenge you.
What was your launch strategy?
Reach out to as many relevant publications as possible. Prompt your friends and anyone who'll listen to you do download it and share on all the socials. Submit a request to be featured on the App Store. I don't think there's any secret here, you just want to get your app in front of as many people as possible. Obscurity is the biggest hurdle to overcome.
What are the future plans for your app?
I'm currently working on rewriting a lot of the interface in SwiftUI, trying to improve how intuitive the app is to use, and to better handle all the complexities of the camera systems. SwiftUI makes things like animating complex state changes almost trivial.
Beside that, I want to explore more system features like Widgets and Shortcuts, as well as improving the user guide, and maybe exploring video tutorials.
There's always more to do!
---
A quick welcome to the ✨ 5 new people ✨ joining us this week - feel free to reply to this email and say 👋.
If you're enjoying the newsletter, please consider sharing it! Have some feedback you want to share? Drop me a message 📧
If you missed last week's issue, you can read it here: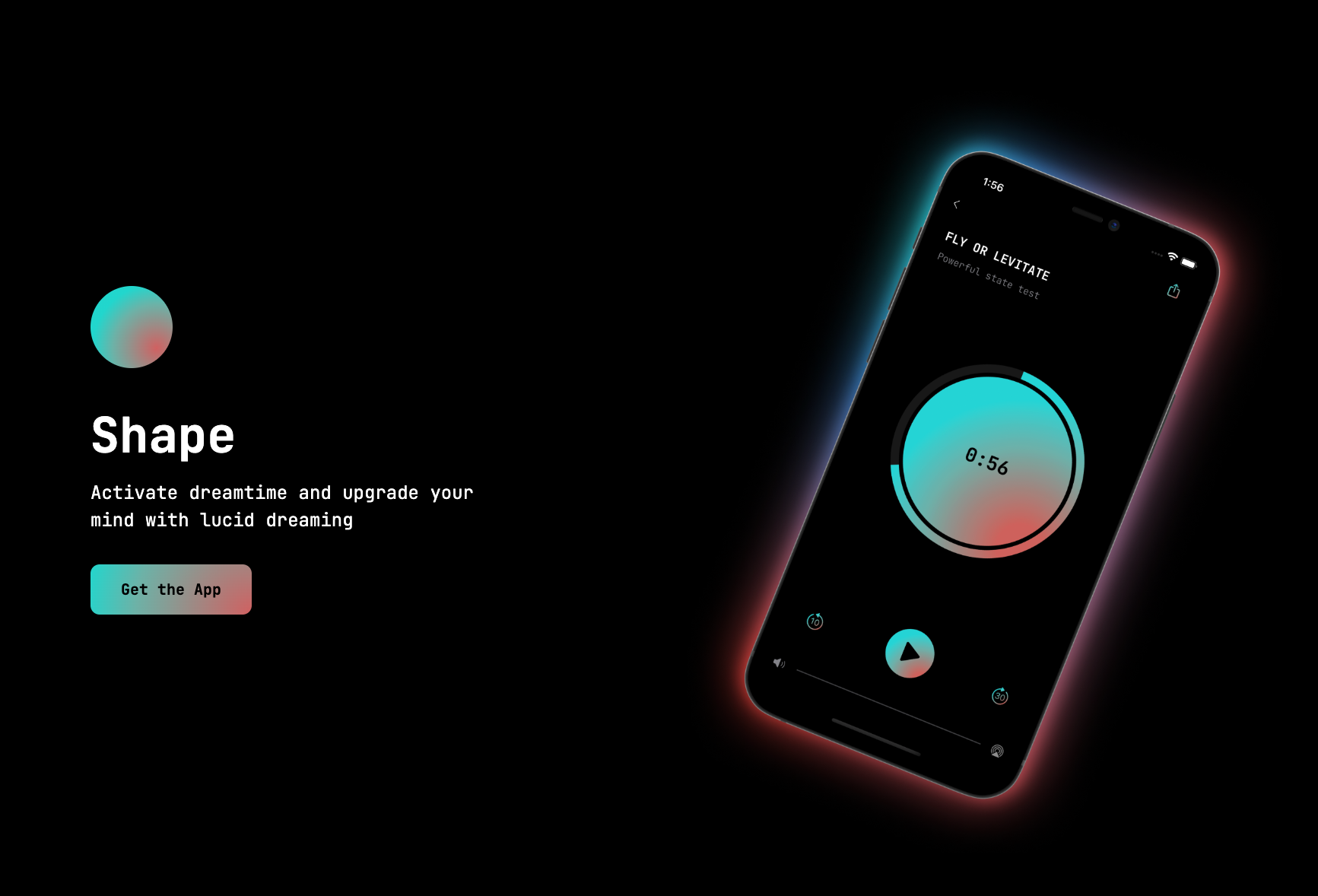 ---
If you have an interview coming up, check out my books Ace the iOS Interview and Practical Tips for Junior iOS Developers!
Check out my blog for more articles on iOS Development & Swift.
Subscribe or follow me on Twitter for updates!