Today, we're looking at Highlighted by Damir Štuhec.
With Highlighted, you can highlight books effectively, and stop forgetting what you read. Damir's app makes it easy to organize, revisit, and export book highlights.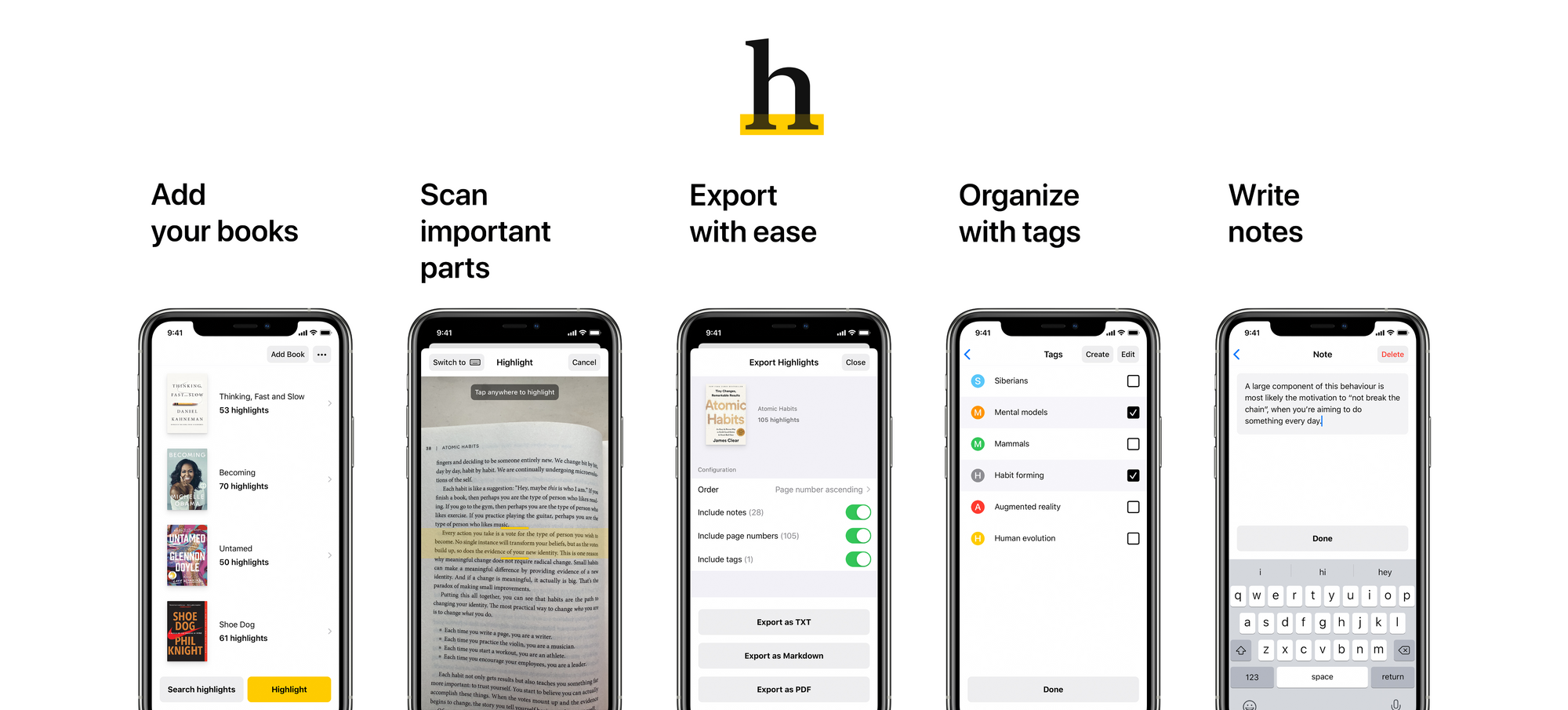 Feature Highlights
Best-in-class text recognition with smart sentence and paragraph detection
Photo highlighting
Custom tags & notes
Easily share and export your highlights
ISBN scanning
Home Screen widgets
Currently, Highlighted has a 4.9 rating, 300+ reviews, and over 10K users! Not to mention, it's been featured by Apple in their "App of the Day" category.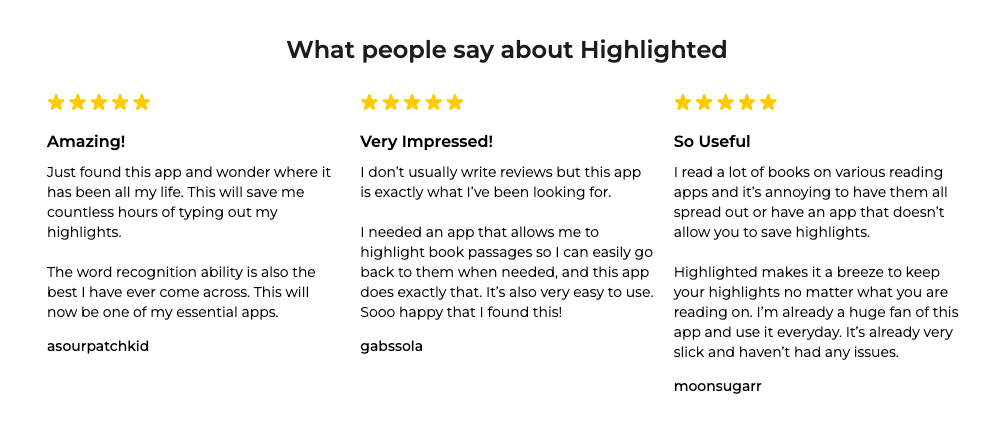 I've been using Highlighted over the last couple of weeks and it's quickly become one of the most useful apps on my phone. It's extremely intuitive and works flawlessly.
If you're an avid reader, I highly recommend Highlighted:

Can you tell us a little bit about yourself?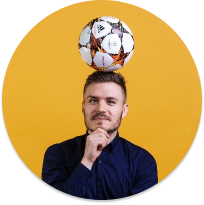 My name is Damir Štuhec, and I live amid vineyards in Slovenia, where I was born and raised. My family is full of musicians, so music was supposed to be my professional path, but computers came into the picture and carried me away.

At 14 years of age, I started programming and have been inspired by it ever since. In 2011, during the first year of my CS Master's degree, I discovered iOS and got hooked.

In 11 years as an iOS engineer, I worked at companies big and small, notably Qapital, John Hancock, and currently Circle. I'm spending my nights and weekends working on my indie app Highlighted, which is a labor of love and my playground for learning new technologies.

My interests outside tech are sports (mainly soccer, running, and hiking), cooking, traveling, playing guitar, and drawing.
---
How did you come up with the idea?‌
I love reading books, especially non-fiction. Like most people, I often stumble upon a valuable part I would like to remember or at least save somewhere safe and permanent where I can find it later.

I never enjoyed underlining or writing in the margins of paper books. They feel too precious and pristine to me.
For years, I had this idea of capturing highlights on my phone and having them organized in a digital form for easy recall.

Text recognition was never good or fast enough, but that changed when Apple introduced a native, on-device OCR framework (Vision) around three years ago.
What followed was Xcode → New → Project.
---
💡 Want to see your app featured?‌
‌Submit your app or reach out on Twitter 🐦
---
How did you market the app as an indie developer?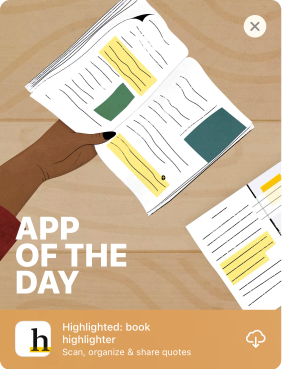 Like many indies, I struggle with marketing as well.
That said, there are some things that worked well for me in the past:
Sharing progress on Twitter: I highly recommend making a habit of sharing things as you develop them, especially if they are visual in nature. Before and after screenshots, screen recordings, promos, upcoming feature teasers, etc. - people love that.
Attending design and marketing labs at WWDC: Besides getting invaluable feedback, these are a great opportunity to raise awareness about your app which will put you in a better position of getting featured.
Submit your app to Apple: Tell Apple about your app, plans for new features, important updates, etc. - see here for more info.
---
What's your app design and development workflow like?
I'm a big believer in simple but powerful apps. Achieving that is far from easy though, and requires a clear understanding of the motivations and goals people are trying to satisfy with your product.
To learn about them, give your users a way to reach out, and when they do, listen carefully. Listen, dig deep by asking follow-up questions, and open your mind beyond your beliefs and assumptions.
Regarding my design and development workflow, I think everyone needs to find what works for them. However, one piece of advice I can share is that, while there's a time and a place for shipping things quickly, you need to give your ideas time and space to develop.
Visual or technical, let your thoughts marinate and mature for a few days, weeks, or even months. Even when you aren't actively thinking about something, it is developing and shaping in the "background". I can't tell you how many times I found a more suitable solution, or better yet, realized it's not something I want to do at all, simply by putting it aside and coming back to it later.
---
Closing Thoughts
As part of my New Year's Resolutions for this year, I decided I wanted to read more. My goal was to simply read 30 pages of any book every single day. In effect, this means I'm finishing a book roughly once every 10 days (~300 pages). So, as you might imagine, I've been making heavy use of the San Francisco Public Library.
Since these books are rentals and I share the same aversion to writing in books as Damir, I'd use Notion to take notes while I read. Although this workflow worked, it was inelegant. Every time I got into the flow of the book, I'd have to break it in order to make a note or a highlight.
Now that I've been using Highlighted, the process feels so much simpler. I can quickly take notes on my phone in "real-time" without having to context-switch or lose my reading momentum. I can always easily export my notes into Notion afterwards.
You've probably all experienced finding a fix for a bug while doing something completely unrelated. So, I think Damir's recommendation to take periodic breaks from projects and problems to let our minds mull them over is sound advice. This is likely something many of us already do in our professional work, so why shouldn't it extend to our indie efforts as well?
---
A quick welcome to the ✨ 10 new people ✨ joining us this week - feel free to reply to this email and say 👋. If you missed last week's issue, you can read it here.
If you're enjoying the newsletter, please consider sharing it! Have some feedback you want to share? Drop me a message 📧
Or, if you're looking for something else to read, check out our sponsor Refind!
---
If you're an iOS Developer with an upcoming interview, check out Ace the iOS Interview:
Subscribe or follow me on Twitter for updates!