Today, we're looking at a music app called TuneTrack by Aryan Nambiar.
This is genuinely one of the most inspiring stories I've heard from anyone I've interviewed thus far and I'm going to do my best to try and hide my jealousy 😉 ...
TuneTrack lets you view your music statistics anywhere by integrating with music services like Spotify, Apple Music, and Last.fm.
Think of it like an on-demand version of Spotify Wrapped .
While its creator was busy studying for AP exams, TuneTrack was busy clearing 1 million downloads. That's right - this app, which has now cleared well over 2 million downloads, was created while the the developer was still in high school.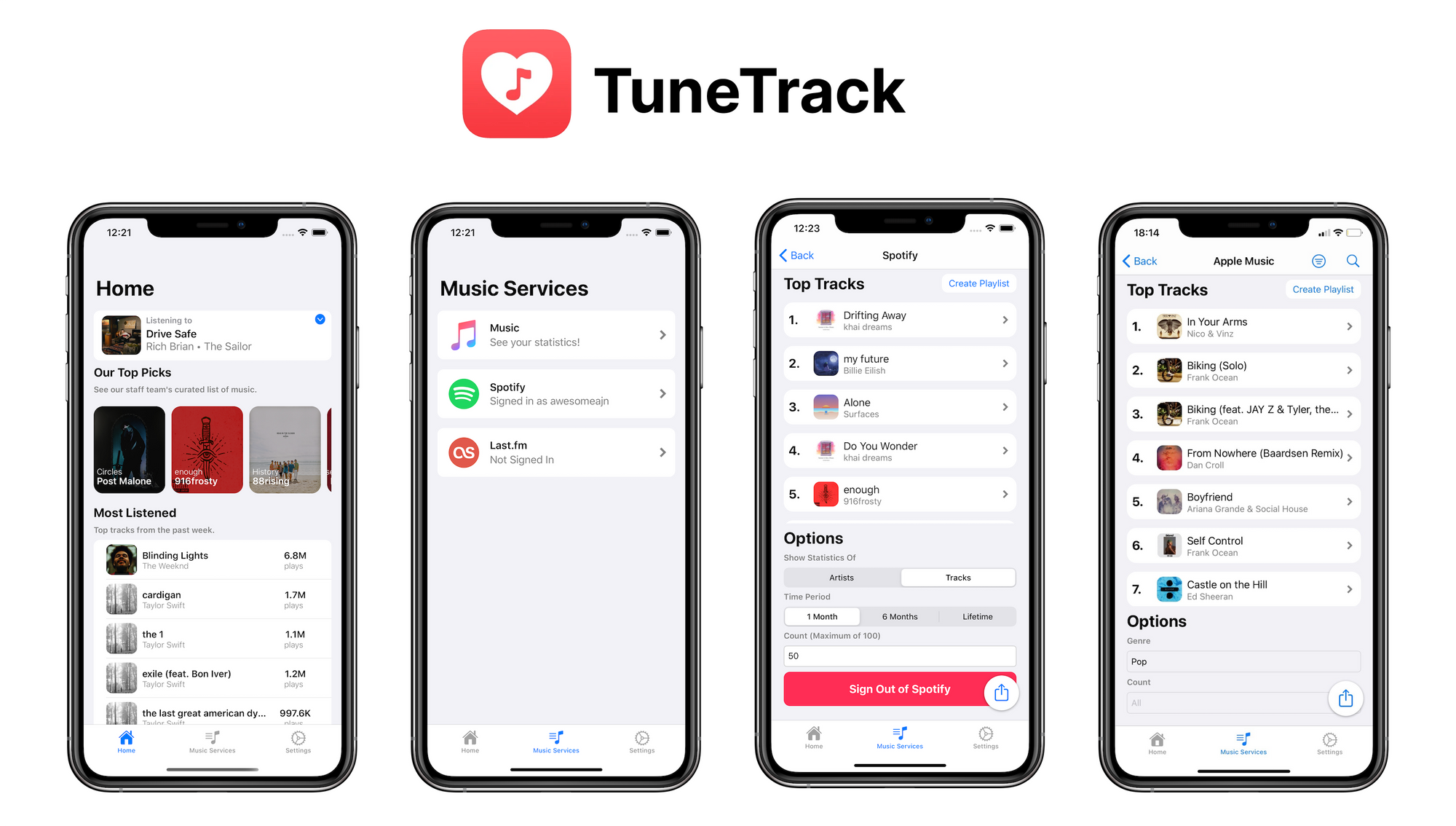 With TuneTrack, you no longer have to impatiently wait until the end of the year to see which artists and songs you listened to the most. TuneTrack gives you access to statistics like Top Tracks and Top Artists with numerous ways to filter and organize the data.
All of this information is now available on-demand with a variety of additional features, including, but not limited to:
Feature Highlights
Advanced filtering: View precise data for any media over any time period.
One-tap playlists: Easily create a playlist of your top tracks and share it with friends.
Easily share data: TuneTrack lets you easily export your top artists, tracks, and albums.
Now Playing widgets: Easily pick between widgets for Spotify and the Music app to display and control playback of your currently playing song.
Customization: TuneTrack comes built-in with configurable themes and app icons, so you can personalize the app to your liking.
Currently, TuneTrack has over 2M downloads and has been featured in 50+ countries by Apple, as well as on Yahoo Finance, TechCrunch, and 9To5Mac.
We'll go over TuneTrack's viral timeline in just a moment (see Editor's Notes below).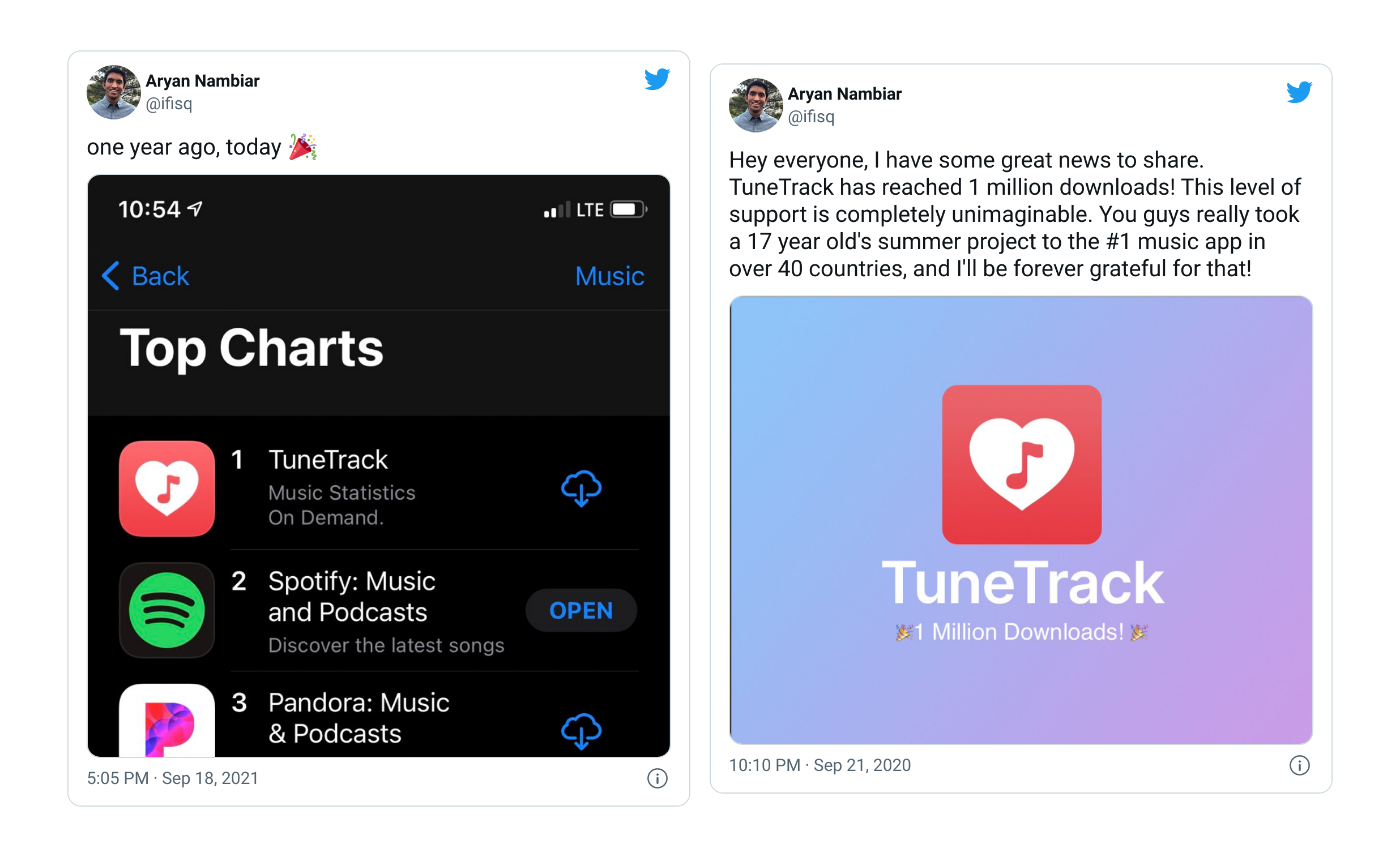 Can you tell us a little bit about yourself?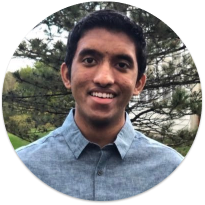 If you had told me a year ago when I first picked up that 1,000 page Swift book that it'd lead me to develop a #1 application, I wouldn't have believed you.
I'm currently about to start my 2nd year as a student at the University of Illinois at Urbana-Champaign. During my free time, I enjoy working on projects that interest me - like developing mobile apps.
Around 2 years ago, I started making mobile apps and released a free app called TuneTrack. At the moment, I'm working on mobile apps part-time at a startup called RIFF, and will be working on cloud projects as a full-time intern at Motorola this summer.
---
How did you come up with the idea?‌
When iOS 14 was announced, Apple heavily marketed the addition of widgets on the Home Screen. I thought that the idea of widgets created a lot of really cool opportunities for new types of apps, so as an avid music listener, my first idea was to build a widget that would display my currently playing Spotify song.
I quickly prototyped the feature and posted a basic demo on Twitter the day after the iOS 14 Developer Beta was released.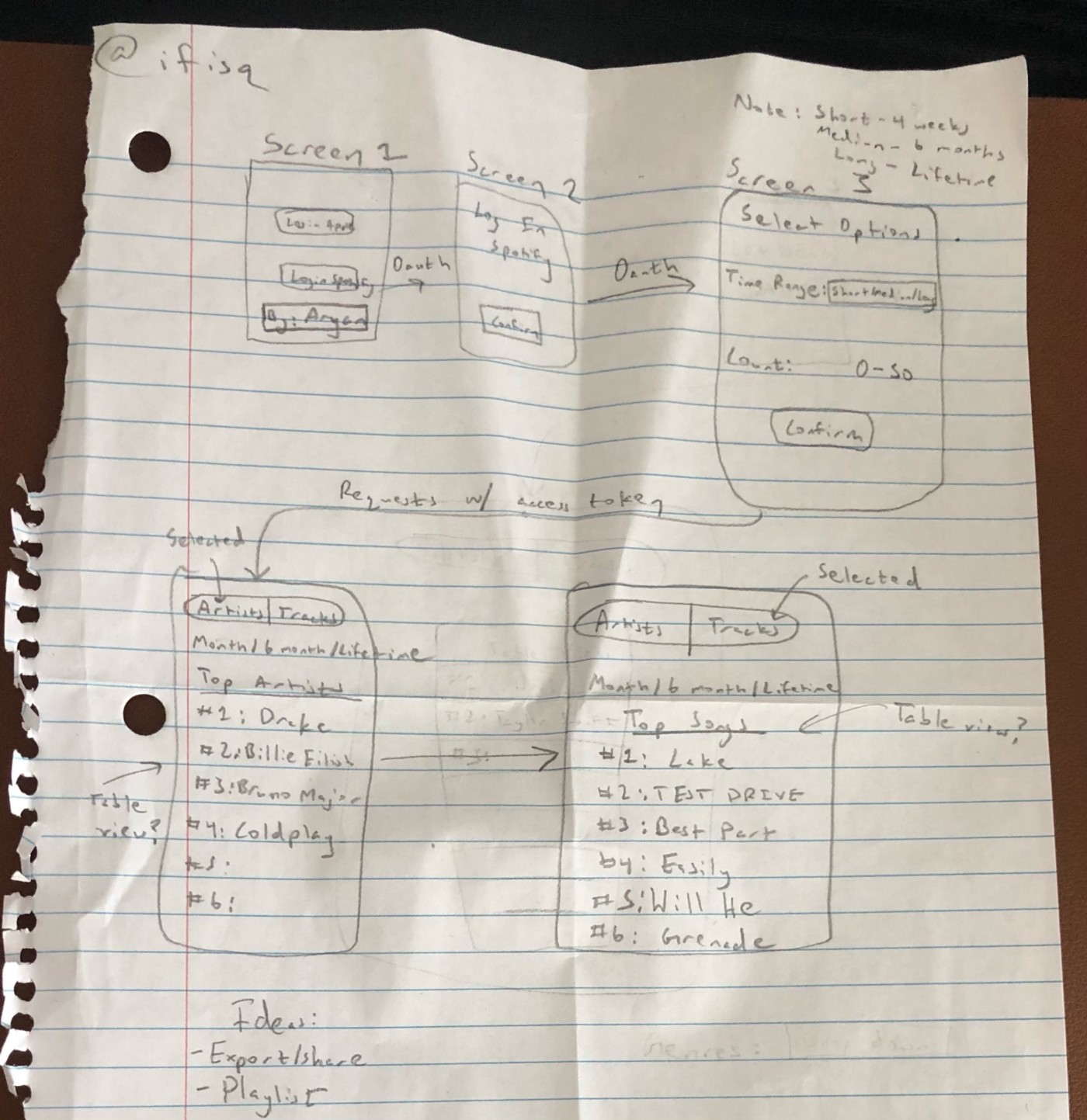 The response on Twitter was really positive, so once I was sure that this was something people would actually use, I started playing around with Spotify's API a bit more. I realized that I could fetch more customized listening data than Spotify was showing in its own app.
So, I set out to build an app that allowed users to easily access their own customized listening data. I bundled the earlier widget idea with this app, added Apple Music support, and eventually released TuneTrack alongside iOS 14's public release.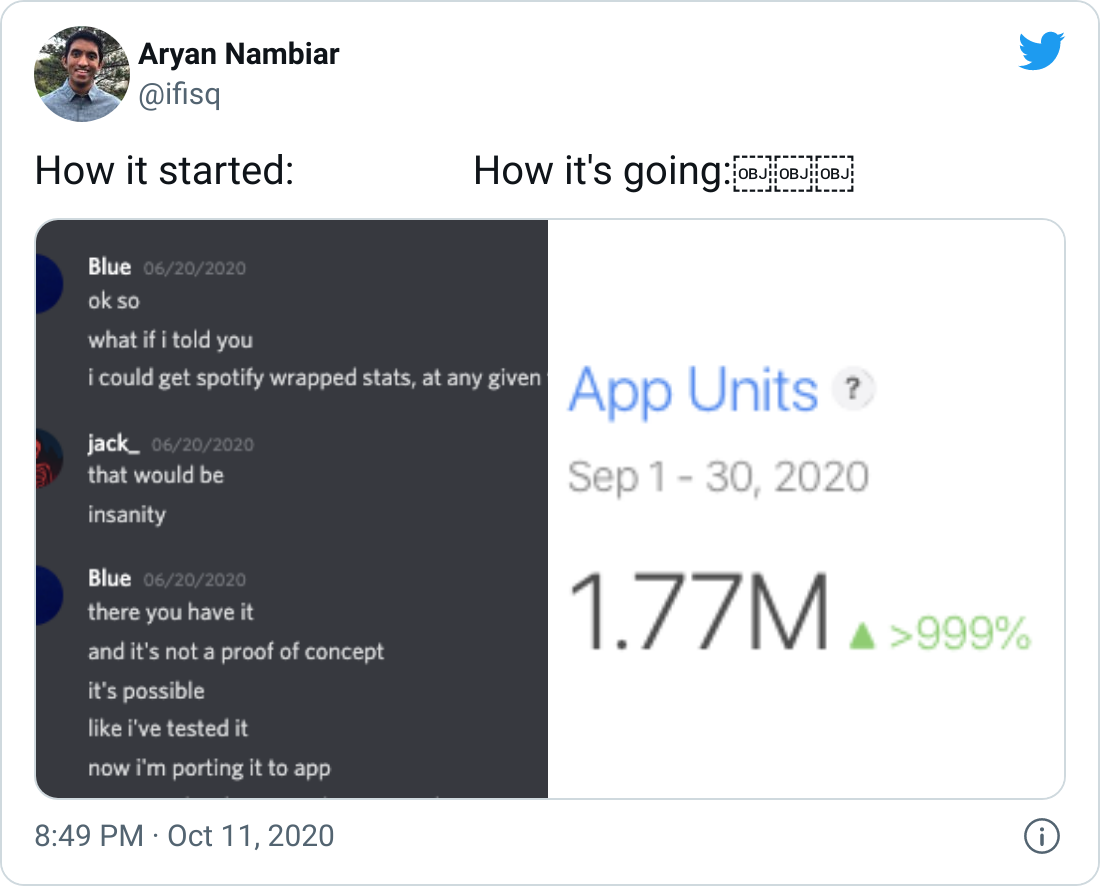 If you want a more in-depth origin story, check out Aryan's blog post on the topic.
---
💡 Want to see your app featured?‌
‌Submit your app or reach out on Twitter 🐦
---
How did you market the app as an indie developer?
Since this was my first time developing an app, I wasn't sure how to approach marketing. In addition to submitting the app to Apple for a feature, I sent it to all of the popular app blogs, but I never heard back.
Initially, the widget gained some traction on Reddit, but it took off on Twitter, where I was consistently posting about it. Then, when iOS 14 was released, people shared screenshots of their new home screens on Twitter, many of which included TuneTrack's widget, and it quickly spread through word-of-mouth on Twitter and TikTok.
My app solely blew up because of social media...

Firstly, I believe that I made a quality product. I made sure that the onboarding process for new users was as easy as possible, and I think that really helped.

Secondly, it was shareable. I personally believe that's the biggest key to getting your product spread on social media. If users have something that they can share with others, that's a huge step towards just getting your product out there.
-Aryan
---
Any tips for monetizing your app or improving conversions?
IAPs were surprisingly effective!
Since I'm not allowed to charge for access to anything that uses Spotify's API features, I included some IAPs that would enable the user to customize the colors of the app and the widget.
I found that many people used the widget part of the app to customize their Home Screen and were willing to pay a small fee in exchange for more customization options.
As for monetization advice, I would suggest that you make sure that your paid features clearly enhance the user's experience with your app - if the user can't tell why they should pay for something, they won't.
---
Editor's Notes
As indie developers, aren't we all striving to achieve this kind of success? A personal project turned into an overnight sensation?
Aryan wrote a wonderful Medium post where he shares TuneTrack's story in more detail. It covers what to do when you have more traffic than you can handle, competing commitments, scaling and rate limiting issues, and what to do when you get featured by the New York Knicks and go viral on TikTok on the same day.
Here's an abridged timeline of TuneTrack's rise to fame: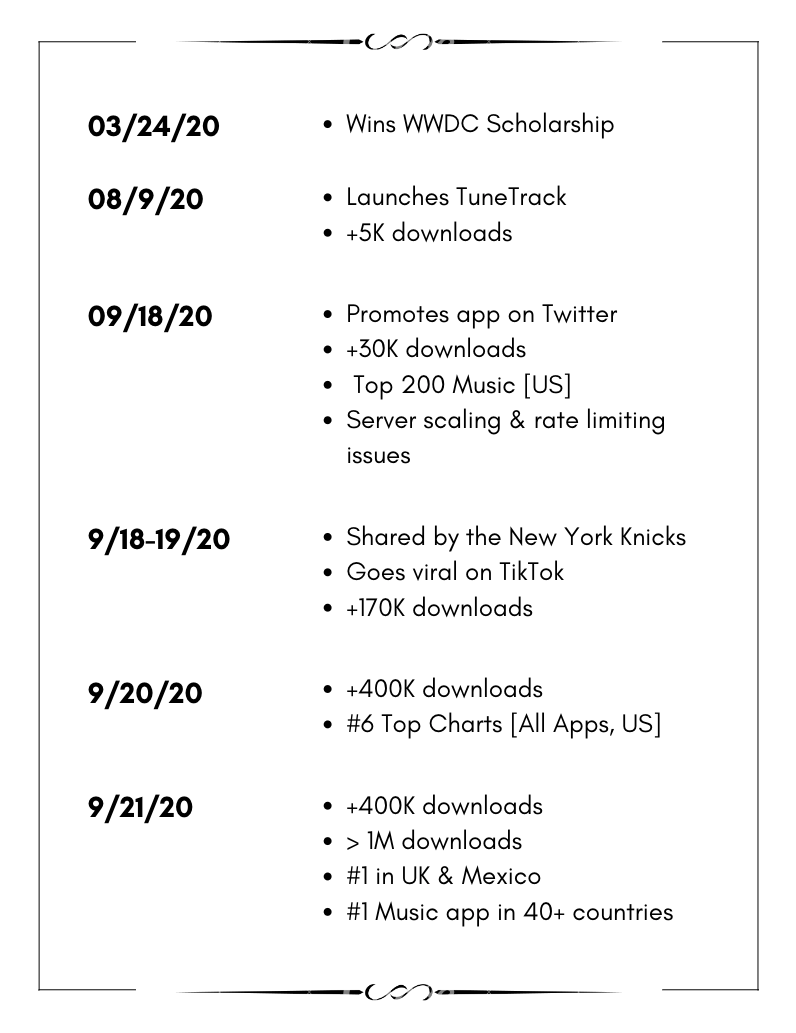 Aryan's experience covers both the highs and the lows of the indie journey - an initial failed launch, viral success, and the consequences when things go too well.
If Aryan's already done this well for himself before his freshman year of college, I can only imagine what he'll build in the future.
Follow him on Twitter to stay up-to-date on his journey 🚀
---
A quick welcome to the ✨ 22 new people ✨ joining us this week - feel free to reply to this email and say 👋.
If you're enjoying the newsletter, please consider sharing it! Have some feedback you want to share? Drop me a message 📧
Or, if you're looking for something else to read, check out our sponsor Refind!
---
If you're an iOS Developer with an upcoming interview, check out Ace the iOS Interview:
Subscribe or follow me on Twitter for updates!