Issue #11: Focused Work by Michael Tigas
Today, we're taking a look at Focused Work by Michael Tigas.
Focused Work is a powerful timer that helps you have highly productive days.
Inspired by the Pomodoro Technique, it's purpose-built for people who want to focus for long periods of time. Focused Work helps you become more accountable by helping you focus, reflect, and build healthy productivity habits by completing daily goals.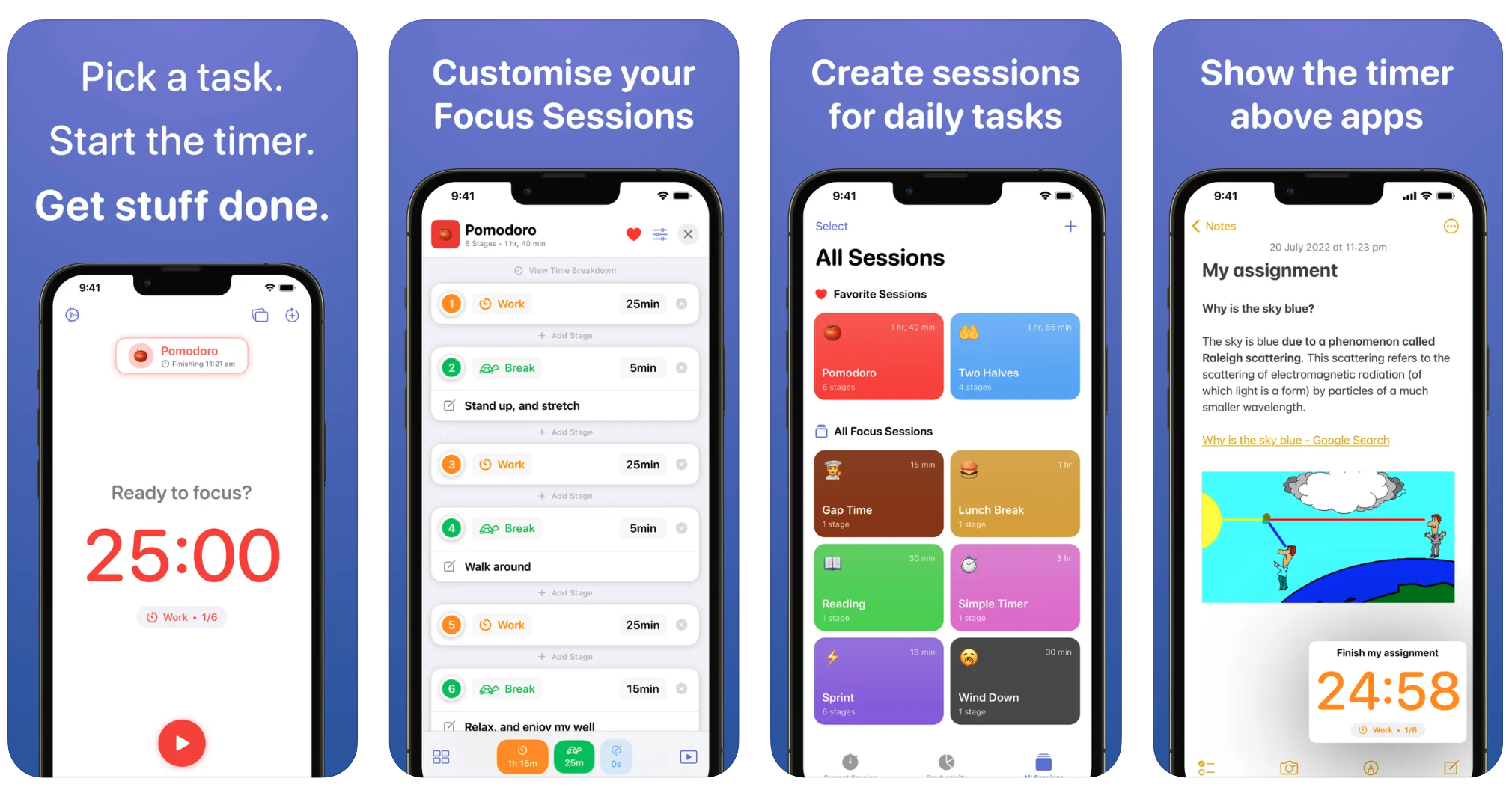 You can create repeatable "Focus Sessions" that are structured to tackle any kind of task or goal, comprised of Work, Break, and Planning stages. Additionally, setting daily goals helps you maintain your productivity momentum and develop good working habits.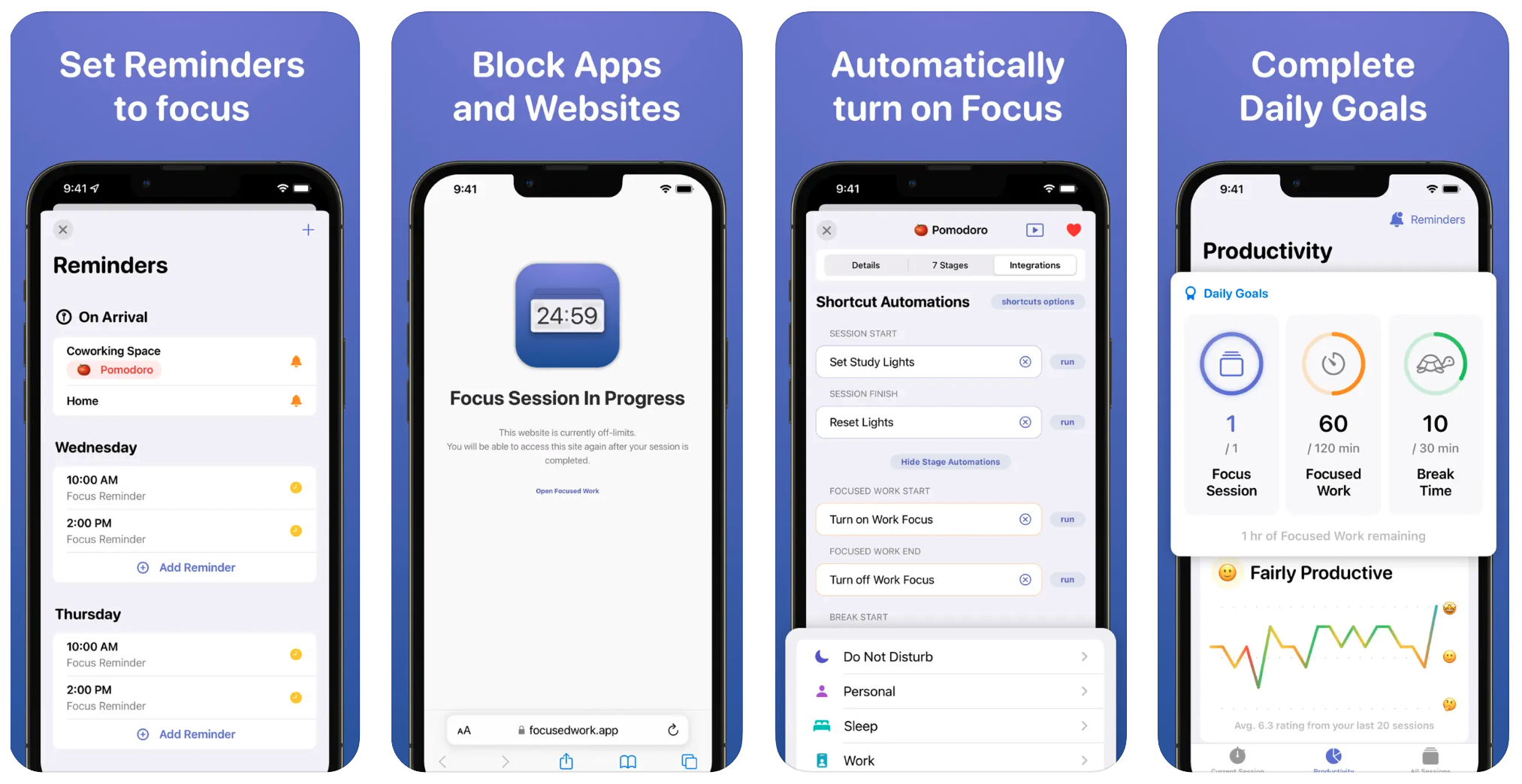 Additional Features
Floating Timer: Always shows the timer above other apps via Picture-in-Picture mode
Siri Shortcuts: Control your session with Siri (start, pause, skip, restart, etc.)
Session Alerts & iCloud Syncing:
Start a session on Mac, and receive update alerts on iPhone, iPad, and Apple Watch
Customizations: Tweak the app to fit your style and blend the widgets into your Home Screen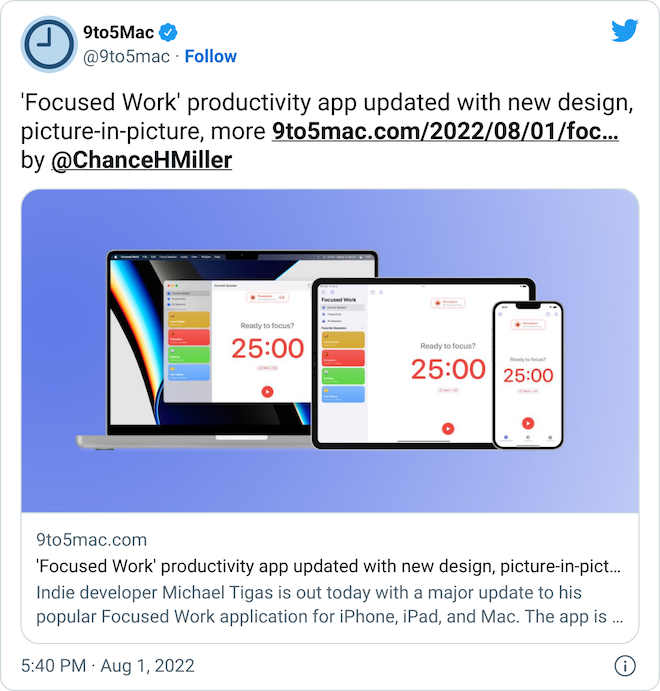 ---
Can you tell us a little bit about yourself?‌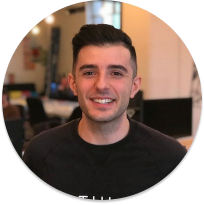 Hey, I'm Michael! I live in Melbourne, Australia, and have been creating apps for the past 8 years. I've worked as a freelancer for most of this time and then began my indie journey in 2020 - launching Focused Work!

I've really enjoyed managing the strategic, creative, and technical direction of my apps, which has motivated me to continue learning and creating even better products!
---
‌How did you come up with the idea?
I created Focused Work to help me in two areas:
I was having trouble focusing and getting work done when I was feeling unmotivated.
When I work without breaks for too long, I become mentally drained and eventually burn out.
Since I'm an indie developer, I always have to deal with different kinds of tasks - I code some days, design other days, brainstorm new features and apps, and occasionally write content.

With Focused Work, I can break down each task into smaller, more manageable pieces so I can get things done consistently.
---
💡 Want to see your app featured?‌‌
‌‌Submit your app or message me on Twitter 🐦‌
---
‌How did you market the app as an indie developer?
I created the first version of Focused Work over a six-month period and actively shared what I was working on via Twitter.

This helped me build a following and hype towards the launch, and I also made friends with quite a few people from around the world - many of whom I still chat with today!

I also reached out to various journalists during the TestFlight period, and was really fortunate to have MacStories write a piece for launch day!
"A simple, but valuable utility for creating timed focus sessions of productivity."
- MacStories
Since then, I've continued building in public and regularly submit major app updates to the App Store Editorial team.

However, with Focused Work 3's launch, I thought I'd try my hand at creating a promo video which was surprisingly quite well received! I put it together with DaVinci Resolve and Rotato over a weekend.

My Twitter and other social media posts about it caught the attention of many people, so I will definitely try this again when I market future updates.
---
What's your app design and development workflow like?
These days I'm much pickier with how I spend my time!

Originally, I used to go down a rabbit hole by exploring new APIs and finding a way to shoehorn them in, but ultimately they didn't impact product growth.

Then, at some point, I made the mental shift away from "creating apps for fun" to "creating apps to build a sustainable business" which forced me to rethink my app creation process.

I tend to brain-dump ideas into a text file, and if I feel I have the crux of something valuable, I'll whip out my iPad and sketch out some basic user flows. After that, I will fire up Xcode and make a SwiftUI prototype which helps me brainstorm further. Then, if I feel the idea has legs, I'll continue development and will usually try and release something within the next few weeks.
With that said, I've recently simplified my idea-to-launch process by taking a page out of Jordi's playbook (from Issue 10):
- Focused Work - 6 months
- Ochi - 3 months
- Go To Sleep - 2 weeks

It seems like 2-4 weeks is my sweet spot for launching a new product, so I don't waste time adding features that are not critical.
---
Any advice on monetizing your app and improving conversions?
Regarding monetization, I always try to build something meaningful that provides value. If it solves an important problem for somebody, then it will be a no-brainer for them to invest in it.

Don't sell yourself - or your hard work - short; price your products according to the perceived value that you provide. 😊

It's also important to consider focusing on features that have an element of stickiness, so people will likely return to your app most days (if not every day!)

In terms of improving conversions, make the time to learn the basics of ASO (App Store Optimization). It will help you understand why particular keywords are effective and how you can use them to generate more traffic.
---
What's your favorite tool in your workflow?
I use so many great tools, but Notion is #1 for me.

It's essentially my second brain and helps me stay on top of my marketing efforts and feature development.

I've created a flexible system that collates support requests and issues so that I can prioritize development. It makes it easy to figure out how a feature was inspired, who suggested it, and how to contact them to ask for feedback.

I highly recommend checking out my Launching an Indie App blog post which goes into this in greater detail.
---
‌Closing Thoughts
Just like Michael, I also find myself constantly working on varied tasks with different workflows.
The way I work on work projects is different from the way I work on personal projects. Similarly, the way I write this newsletter is very different from the way I write technical blog posts. So, it's been really handy having a single app where I can document these various workflows and access them easily across all of my devices.
I find that making progress on small tasks helps me gain the momentum and morale necessary to tackle larger pieces of work. Consequently, I've been relying heavily on Focused Work's Daily Goals and distraction-blocking capabilities to keep me on track.
With the help of LaunchBuddy, RocketSim, and Focused Work, my indie development and writing workflows have become the most streamlined, thorough, and consistent they have ever been.
---
A quick welcome to the ✨ 18 new people ✨ joining us this week - feel free to reply to this email and say 👋.
If you're enjoying the newsletter, please consider sharing it! Have some feedback you want to share? Drop me a message 📧
Missed last week's issue? You can read it here: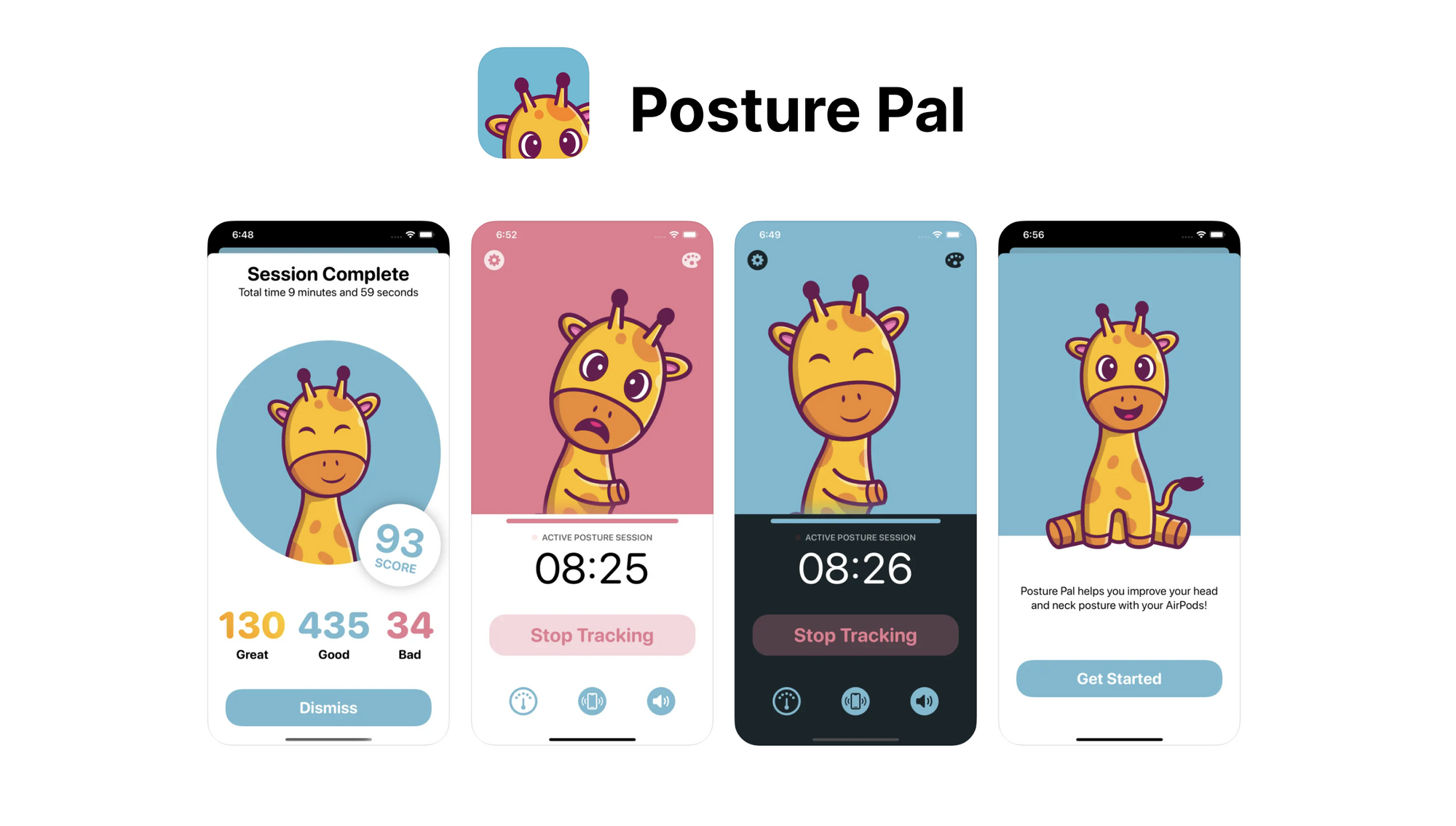 Or, if you're looking for something else to read, check out our partner Refind!
---
If you're an iOS Developer, check out my book - Ace the iOS Interview:
Subscribe or follow me on Twitter for updates!